Register Now for a FREE KRAV MAGA CLASS!
OR Take Our 2 WEEK TEST RUN FOR JUST $69 
We are a dedicated Krav Maga school with 20 years of Krav Maga teaching experience, and our staff includes some of the highest ranked instructors in the world.
Krav Maga is the official defensive tactics system of the Israeli Defense Force. Their soldiers are men and women aged 18 to 51, so their fighting system focuses on techniques that are:
Based on instinctive movements, so they are easy to learn and easy to remember under stress
Not dependent on size, strength, or special physical ability, so Krav Maga techniques can be used effectively by men and women of all ages
Krav Maga is the most practical, fastest-growing self defense system in the United States, used by hundreds of U.S. law enforcement agencies and military units, and practiced by thousands of adults across the country.
No matter what your age or physical ability, Krav Maga was designed to bring you to a high level of proficiency quickly!
Expert Krav Maga Instructors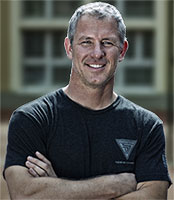 John Whitman, co-author of Complete Krav Maga and Krav Maga for Beginners. He is a 5th Degree Black Belt in Krav Maga, and the first person in the world to hold a Senior Instructor credential from the prestigious Wingate Institute in Netanya, Israel. He was named by Black Belt Magazine as one of 7 instructors setting the standard for martial arts in the 21st century.  3rd Degree Black Belt Brent Wilkening is a Southern California police officer. 1st Degree Black Belt Vivian Cannon is one of the few female Black Belt instructors in the United States. Our entire instructional staff is ready to help you learn this effective self defense system.
Krav Maga Alliance
Our gym is also the headquarters of the Krav Maga Alliance, a nationwide organization of high-level Krav Maga schools dedicated to constantly improving Krav Maga teaching and training. Instructors come from all over the United States, and around the world, to learn how to teach from our staff!
We provide high intensity classes in a professional setting with personal attention for each student.  Get Safer with Krav Maga Culver City!
Register Now for a FREE KRAV MAGA CLASS!
OR Take Our 2 WEEK TEST RUN FOR JUST $69